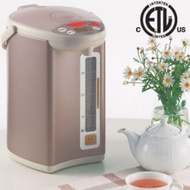 Once in a while, a product comes along that truly changes your life… the Zojirushi water heater is one of those products.
When you have perfectly heated water ready at the push of a button, it is not only convenient, it is invaluable in making tea a part of your everyday ritual.
The Micom Water Boiler & Warmer features four keep warm temperature settings; 140°F, 175°F, 195°F and 208°F. Its energy-saving timer function (6-10 hours) automatically turns on the boiler at a later time to save electricity, and the café drip dispensing mode allows slower dispensing. Other features include one-touch electric dispensing system for easy dispensing and an easy-to-read LCD display that shows actual water temperatures at all times.
Edit info Last updated by looseTman
Currently unavailable
We don't know when or if this item will be available.