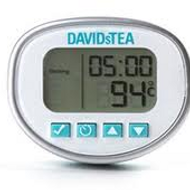 "Thermometer
Tea Just Got Easier
This clip-on gadget has pre-set temps and times for steeping all our teas. So whether you're into white, green, oolong, black, pu'erh, rooibos, maté or herbal tea – it'll be perfect every time. Just listen for the beep."
http://www.davidstea.com/thermometer-and-timer?&TF=3B9DBE9A142D&DEID&currid=usd&LN=EN
Edit info Last updated by looseTman
Currently unavailable
We don't know when or if this item will be available.