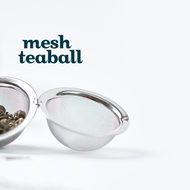 How can you live without a teaball? It's just an essential part of making tea. Ours is crafted for easy and secure opening and closing, so your loose-leaf tea stays where it's supposed to be – and doesn't make its way into your cup. It's also got a hooked chain, so when you're done steeping, it's easily removed from your tea. Perfect for making a big pot or just a single mug.
Edit info Last updated by Daddyselephant
Currently unavailable
We don't know when or if this item will be available.