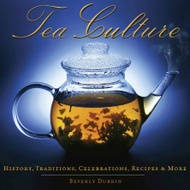 Tea Culture: History, Traditions, Celebrations, Recipes & More
by

Tea Books
Pour a cup, open the covers….this is your cup of tea! Tea for two, tea for three…tea for more! Hot or cold, sweetened or black, alcoholic or herbal, caffeinated or decaf: the drink may be ancient, but tea culture is trendy. More and more people are discovering the elegance, versatility, downright good taste, and even the health benefits of this delicious beverage. And they want to find out even more: the different flavors, the best methods of preparation, and the fun ways to enjoy a cup at home, with others at a party, shower, or any other special occasion.
Edit info Last updated by TeaNecromancer
Currently unavailable
We don't know when or if this item will be available.