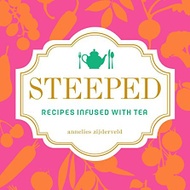 A kettle whistles, releasing a plume of steam. Hot water swirls over a wire mesh basket, plumping whole tea leaves, unleashing their aroma as steam rises from the teacup. The ritual of tea begins anew. Scratch that—all of it. Forget what you think you know about tea. We're pulling the doilies out from under the teapots. Steeped: Recipes Infused with Tea encourages experimenting with tea in cooking and baking as another flavor in a cook's culinary color box. Invite tea into every meal of the day through 70 plant-based recipes. Get steeped.
Edit info Last updated by TeaNecromancer
Currently unavailable
We don't know when or if this item will be available.