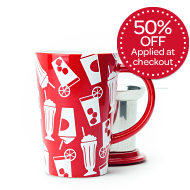 So what makes this mug so perfect? Well, aside from being the perfect size and shape, it comes with a fine, stainless steel infuser that fits right into it and a lid that doubles as a coaster when you're done steeping. Plus the design glows in the dark, so when you turn off the lights, you can always find your cup. Just make sure the lights are on when you pour your water…Dishwasher safe. Microwave safe, except for metal infuser.
Edit info Last updated by Roswell Strange
Currently unavailable
We don't know when or if this item will be available.