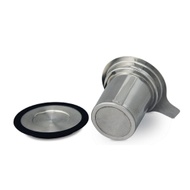 Turn your favorite coffee mug to your favorite tea mug!
The Brew-in-Mug Extra-fine Tea Infuser with Lid, is complete with an easy grip silicon rimmed stainless-steel lid. The infuser gives you a perfect even brew every time, and enables you to brew fine teas such as Rooibos tea to large whole-leaf teas like Oolong tea.
It fits in American standard mugs. Flip the lid and it works as an infuser holder. With this infuser, brewing your favorite cup of tea is now easier than ever!
Available in 8 colors in acetate package for a single pack per color.
Edit info Last updated by New Mexico Tea Company
Currently unavailable
We don't know when or if this item will be available.