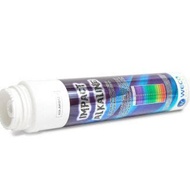 "Impact Alkaline Filters offer high quality and great tasting water. Our superior cartridges provide high pH remineralized water with ORP typically near -800mv. No more "flat" tasting RO water! Properly applied, the Impact Alkaline filter can change RO water from acidic to an alkaline state in excess of pH 8.0. Our R.O. retrofit kits include ¼" and ⅜" John Guest connectors to make any retrofit easy."
"Our unique Alkaline blend includes multiple medias including Far-Infrared Ceramic, Tourmaline Ceramic, Magnesium Ceramic, Alkaline Ceramic, Calcium Carbonate, Magnesium Oxide and ORP Ceramic. Ceramic medias introduce trace elements including calcium, magnesium, sodium, potassium, zinc, silica, strontium, selenium and lithium into the water while increasing pH and reducing ORP."
Edit info Last updated by looseTman
Currently unavailable
We don't know when or if this item will be available.