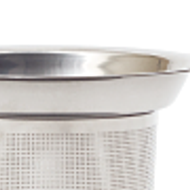 Note: Unlike other infusers, this one includes a ceramic lid. (See 2nd image.) Ceramic lids provide much better heat-retention ability than metal or plastic lids.
Teal Perfect Infuser
Make it perfect
David wanted to make the perfect one-cup infuser. It had to be durable, yet stylish, with a curvy shape that would fit into almost any mug. It had to keep small tea leaves in place, while allowing larger teas plenty of room to expand. And it had to come with the perfect tea-steeping accessory: a sturdy lid that could double as a coaster. This sleek, stainless steel beauty does it all and more – and David couldn't be happier.
http://www.davidstea.com/tea-perfect-infuser?&TF=384C2498270F&DEID=
Edit info Last updated by Cameron B.
Currently unavailable
We don't know when or if this item will be available.