Went here for brunch for my daughter's 18th bday! We had wanted to go here for the crepes forever! Little did I know they serve SHANG TEA! YUMMMM
I had Tangerine Blossom which I adore and have here at home.
The crepes were AmaZING and they also had macrons which as some of you know my daughter makes at home so it was a good chance to compare hers to others.
They serve wine, liquor, seltzers, french and italian sodas, etc and so on.
The crepe menu is larger than any other crepe place I have been and I have been to a few.
They have about 7 teas on their menu in loose leaf – all from Shang.
The guy working there was pretty surprised when I said that it was nice they had Shang Tea. I guess he didn't expect me to know the brand.
They use ForLife Tea pots.
I had never used one before – they are not my style in looks but the brew basket is REALLY nice with tiny fine holes for steeping.
Featuring a wide selection of sweet and savory crepes, Gluten free, Vegan, buckwheat
batters available.
Full Coffee Bar
Expresso, Cappucino, Lattes,
Mochas
amd more!
Chez Elle Edit
| | |
| --- | --- |
| Type | Cafe |
| Style | Other |
| Serves | Loose-leaf, Bagged, Chai, Iced |
| Food | Snacks, Sandwiches, Pastries |
| Features | Free wi-fi |
Have more info about this place? Add It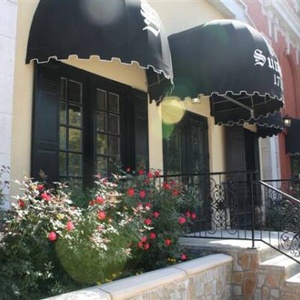 Photo submitted by
Azzrian
1713 Summit St.
Kansas City, Missouri
816-471-2616