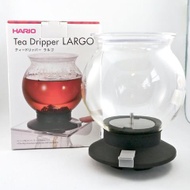 Finally! A heat tempered glass tea infuser that uses the same principal as the BREWT. The upper glass chamber holds enough for a large teapot, and with the press of a lever, the steeped tea drops down into the awaiting teapot below. Cleans up easily and looks great for pour-over tea service.
Edit info Last updated by The Teaguy
Currently unavailable
We don't know when or if this item will be available.