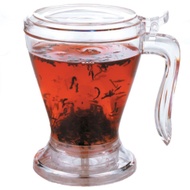 Teaze Tea Infuser - Over the Cup Infuser - TEAZE Infuser
by

Teaware
The Teaze infuser is a revolutionary new method of steeping loose leaf tea by the cup. Insert your desired dry tea or herbal tisane leaf into the steeping chamber, add hot water and watch the leaves tumble as the tea develops to the desired color and intensity. To dispense, simply place the Teaze infuser on top of any standard mug or cup. This step activates the flow-through valve, and allows the liquid to filter into your cup. A novel, practical visual experience for home, casual dining, or office.
Edit info Last updated by Em
Currently unavailable
We don't know when or if this item will be available.