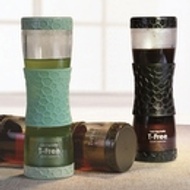 Make your tea and coffee anywhere, anytime
Make iced tea easily just with one tumbler – Infuse your tea and put ice cube. It's that easy!
No more bitter, strong tea caused by over-steeping
Beautiful curved hourglass look – revolutionary design!
Product Features
500mL (16.9 fl oz) hourglass-shaped tea tumbler offers a stylish way to carry beverages on the go.
Sturdy BPA-free construction with silicone sleeve, which protects your hand from excessive heat.
Prevent over-steeping just by turning over the tumbler – no more bitter taste caused by over-steeping.
Unique both-caps-open system allows you to keep the tumbler clean very easily.
Removable, extremely fine stainless-steel strainer keeps loose tea and coffee in bottle.
Material: Tritan(BPA free plastic), Stainless steel infuser, Silicon
Size: 500ml (16.9 fl oz)
Made: Japan (China OEM)
Price: $19.5
Edit info Last updated by High Adventure
Currently unavailable
We don't know when or if this item will be available.