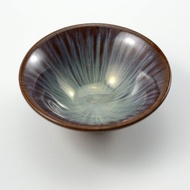 A glazed teacup with a dark red glaze and a silver thread effect, as shown in the close up images. As with any glaze of this nature, the pattern and positioning of the glaze will be unique to each individual teacup.
Dimensions: 8cm X 3.5cm
Weight: 85g
H20 Capacity: 40ml
Edit info Last updated by TeaNecromancer
Currently unavailable
We don't know when or if this item will be available.