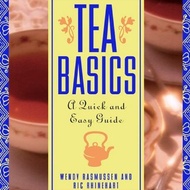 Your complete guide to the perfect cup
Civilized, soothing, delicious, and relaxing . . . tea offers an ideal refuge from the fast pace and stressful demands of life today. But with the astonishing array of teas currently available, how do you find a cup you can really call your own?
Start with Tea Basics. This handy reference covers all of the essentials of tea buying, brewing, and tasting, and explores the comforts of ritual and healing that tea has provided through the centuries. As you sip and savor the wonderful flavors of black teas, green teas, oolongs, and scented/herbal teas, you'll understand why tea is consumed by more people worldwide than any other drink except water. So put the kettle on, put your feet up, and immerse yourself in Tea Basics! Inside you'll find:
Tea facts: its origins, history, and many varieties Guidance on selection, blending, brewing, tasting, and storage Tips on tea etiquette A tea-tasting glossary Select sources of tea and related equipment
Edit info Last updated by TeaNecromancer
Currently unavailable
We don't know when or if this item will be available.