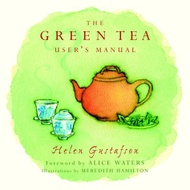 With its own aromas and delights, as well as a host of health bene?ts, including enhancing immune system function and lessening damage from free radicals, green tea continues to grow more popular in American diets. Yet because it is brewed differently, and many varieties of green tea are available, there is more to know about making a good cup of green tea than how to boil water.
The Green Tea User's Manual leaves no leaf unturned, introducing 16 of the most popular types of green tea, including Dragon Well, Sencha, Jasmine, and the Japanese tea Gen Mai Cha. It describes the three stages of bubbles to look for when boiling water and the various vessels in which to brew, from pots to small covered cups known as guywans. Lovely line drawings, original recipes, anecdotes, lore, and related green tea tips help to make this irresistible little book a perfect gift for anyone with a penchant for tea.
Edit info Last updated by TeaNecromancer
Currently unavailable
We don't know when or if this item will be available.