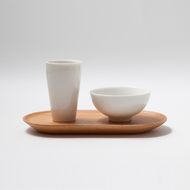 Here at Tea Ave, we think aroma is pretty important. Following the traditional Taiwanese tea-serving ritual, the aroma cup is used to smell the tea before tasting it, enhancing the sensory experience and allowing the tea drinker to better explore the nuances and fragrance notes of his or her tea. Good-quality teas can often be identified by their rich, strong scent.

The Tea Ave Aroma Cup Set comes with an aroma porcelain cup, a sipping cup, and a beautiful, durable bamboo tray. To use the aroma cup set, fill both the aroma cup and the sipping cup with hot water and then empty. Next, pour your prepared tea into the aroma cup first, and then into the sipping cup. The fragrance of a high-quality oolong should linger vividly in the aroma cup. The tall, narrow shape of the cup works to capture and funnel the oolong's fragrance.

Works beautifully with any of our oolongs, especially teas with a vivid aroma, such as Wenshan Baochung.

60ml/2oz capacity.
Edit info Last updated by Anlina
Currently unavailable
We don't know when or if this item will be available.