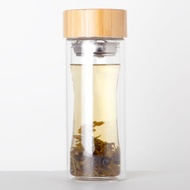 Now you can enjoy quality loose leaf tea anywhere you like, anytime of the day. It looks good too!
Beautifully designed double walled tea bottle made from borosilicate glass with built-in strainer. Double walled feature stops you from burning your hands. Tea remains at a warm and drinkable temperature for up to an hour. With our eco-friendly bamboo lid the sleek design looks great in your hand out-and-about, in your bag or cup holder.
It's easy, drop in tea leaves, refill all day with hot water and drink straight from the bottle (you can reuse the leaves too!). Try iced tea on a sunny day straight from the fridge. Holds 300ml of steeped tea.
Edit info Last updated by Memily
Currently unavailable
We don't know when or if this item will be available.