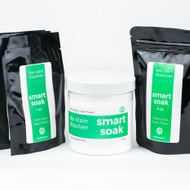 Soak away unsightly stains that tea can leave behind on your teawares. Simple, effective, and without harsh chemicals! It doesn't get easier than this!
This product was developed exclusively for MandalaTea by one of our longtime tea customers (and friends). One day he visited our shop and found me lamenting about how stained my fine mesh filters were. He formulated Smart Soak and a week later we got to test is on those strainers. It amazed us! All our tea gear was made to look like brand new. It is now used frequently at our shop and home.
A tea lover's new best friend!
See the photo to the left of a tea thermos strainer that had gotten very tea stained? The second pic is half the strainer submerged in Smart Soak (see the foaming action as the oxygen lifts the tea stains away). Photo three is the "after" photo. The difference is stark!
Recommended for use on: cups, pots, filters, pitchers, and gaiwans made of plastic, glass, porcelain, and ceramic. Avoid contact with adhesive stickers, unglazed paint, or screen printed decorations.
Common Sense Safety Precautions: As with all cleaning agents, keep out of reach of children, avoid contact with eyes and do not eat or drink. This product releases large amounts of oxygen during the cleaning process, never pressurize the solution or mix it in a sealed container.
Instructions: • Mix 2 teaspoons of cleaner per quart (32oz.) of HOT water • Soak tea wares for 10-20 minutes • Rinse tea wares with warm water • Heavily stained items may require more than one application, extended soak time, or more cleaner.
CAUTION: Keep out of reach of children
Edit info Last updated by Cameron B.
Currently unavailable
We don't know when or if this item will be available.