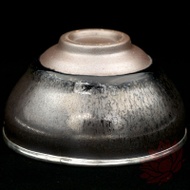 These cups have a thick dark glaze on them that has a sheen like an oil spill. These are solid cups. They have a heavy feel in the hand. These have been lined by hand with fine silver in Yunnan by local silversmiths. Drinking your tea in silver is a true pleasure. The silver reflects light and makes your tea vibrant in color; it almost glows. There is a noticeable difference in the taste as well.
These teacups hold 70ml and measure 3.14" wide by 1.75" tall (8cm x 4.5cm).
This product is a single cup. If you want more you need to purchase multiple items.
These are unique and the item that arrives may differ slightly in texture and appearance from those pictured.
Edit info Last updated by derk
Currently unavailable
We don't know when or if this item will be available.