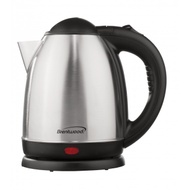 The Brentwood Appliances 1.5 liter 1000-watt electric tea kettle with brushed stainless steel finish features an illuminated power indicator, automatic shut-off for dual protection when boiling or dry and an overheat shut-off. The handy lift-off kettle allows for cord-free use for your convenience.
- Finish: Brushed stainless steel
- Motor: 1,000 watts
- Capacity: 1.5 liters
- Auto shut off when boiling or dry
- Overheat shut off
- Kettle lifts off base for cord-free use
- Illuminated power indicator
- Dimensions: 9 inches high x 7.5 inches wide x 7.5 inches deep
- Model: KT-1780
Edit info Last updated by AmberShrugged
Currently unavailable
We don't know when or if this item will be available.