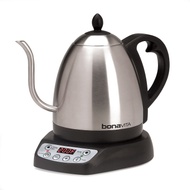 1-Liter Variable Temperature Digital Electric Gooseneck Kettle
by

Bonavita
Product Description
Bonavita 1-Liter Variable Temperature Digital Electric Kettle
The Bonavita Variable Temperature Electric Kettle is a 1.0 liter capacity stainless steel kettle with many unique features. Users can select from six present temperatures or can set their own temperature from 140 degrees F (60 degrees C) and up. The 1000 watt heater boils water quickly and will hold the set temperature for up to one hour. The kettle has a unique spout that allows for a very controlled water pour that is needed for manual brewing of coffee and great for tea steeping as well. Our kettles have been used by World and US Champion Baristas based on its build quality and pour control.
Features
Temperature set/hold for 60 minutes
Accurate to within 1-2 degrees F (or 1 degree C) to set temperature
Count up timer for timed coffee brewing or tea steeping
Actual water temperature displays on LED
1.0 liter capacity
Powerful 1000 watt heating element (AC 120V 60Hz)
Commercial UL certified (USA); UL rated in Canada
Accuracy
Six preset temperatures or user-selected in one degree increments from 140 degrees F (60 degrees C). Holds set temperature for one hour. LED display shows water temperature. Display accurate to +2 degrees F.
Versatility
Unique spout for pour control. Use for manual coffee brewing, tea, or your favorite hot beverage.
1-Year Warranty
The Bonavita BV382510V Variable Temperature Electric Kettle is fully UL Certified for safety compliance and features a 1-year manufacturer's warranty.
Steepster owners include:
Ashley, Cheri, Chris Van Patten, Dinosara, Kat_Maria, Kevin, Kokabel, Lion Repshire, looseTman, Sarsonator, Stephanie, Tealizzy, Terri HarpLady, TinaCHammonds, & Jas262.
Links:
YouTube: http://www.youtube.com/watch?v=7g6c-MwtAKs
Reviews:
http://www.electriccordlesswaterkettle.com/bonavita-bv382510v-1-0l-variable-temperature-kettle/
- http://www.amazon.com/dp/B005YR0F40/ref=cm_sw_su_dp
TeaChat:
- http://www.teachat.com/viewtopic.php?f=36&t=19020
Website:
- http://www.bonavitaworld.com/products/k-main.asp
- http://www.bonavitaworld.com/products/kettle5.asp
Edit info Last updated by looseTman
Currently unavailable
We don't know when or if this item will be available.