Debbie
rated this place and said
I went here today with some friends. It is located right off the main parking lot in Ellicott City. The cafe itself is very small – only two rooms – with very little seating. There are four small tables that can be pushed together to make two larger tables.
The owner and her daughter were in that day and were extremely nice. The food was excellent, as was the tea. I got one of the specials of the day, the inarizushi combination – 3 inari, 4 cucumber rolls, a side, and an ice cream. I also ordered some matcha, which came with a little sweet pastry as a side. We got a pot of hojicha to share.
There was a nice selection of teas that included traditional Japanese tea, herbals, and some non-Japanese tea (I remember seeing Assam on the menu).
There is a cute shop off of the second room of the cafe that is full of neat little Japanese gifts and treats, all very reasonably priced.
I'll definitely be back. Highly recommended.
Matcha Time Cafe Edit
Hours
Mon

–

Thu
11:00

AM

–

6:00

PM

Fri

–

Sat
11:00

AM

–

8:00

PM

Sunday
11:00

AM

–

7:00

PM
Have more info about this place? Add It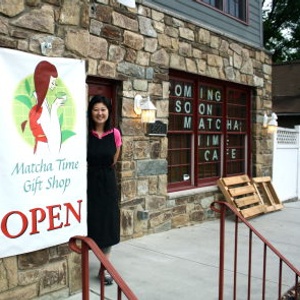 Photo submitted by
Debbie
3785 Hamilton Street
Ellicott City, MD
(410) 418-4832