Price Chopper
www.pricechopper.com
72 Pullman St.
Worcester, MA 01606
508) 854-8474
Manager: Mary Barone
Co-Manager: Mike Camiolo
Hours
Sunday: 9:00am – 3:00pm Monday: 8:00am – 8:00pm Tuesday: 8:00am – 8:00pm Wednesday: 8:00am – 8:00pm Thursday: 8:00am – 8:00pm Friday: 8:00am – 8:00pm Saturday: 9:00am – 7:00pm
Price Choppers motto: Healthy, delicious food starts with making informed decisions. Bring out your inner gourmet and learn more about selecting the best ingredients and preparing nutritious, restaurant-worthy meals.
Pricing wise this market is a bit more than the usual grocery store we normally frequented, but not wanting to travel further, we just stopped in there to get a few items. I don't enjoy grocery shopping since I perceive folks doing things where ever that I am. It is an illness since they don't do things; our store receipt stated that a Bob Murphy as store manager, yet on line something else is depicted. Or the store has several managers.
All grocers have tea shelves full of teas from all sorts of distributors. I did snap a photo of their tea aisle and not sure why since I have not submitted to doing this at other stores. This is not a tea shop review; I am noting a place where I purchased some teas.
Price Chopper Edit
| | |
| --- | --- |
| Style | Other |
| Serves | Loose-leaf, Bagged, Chai, Iced |
| Food | Snacks, Sandwiches |
Hours
Mon

–

Fri
8:00

AM

–

8:00

PM

Saturday
9:00

AM

–

7:00

PM

Sunday
9:00

AM

–

3:00

PM
Have more info about this place? Add It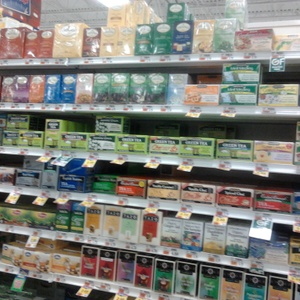 Photo submitted by
ms.aineecbeland
72 Pullman Street
Worcester , MA
(508) 854-8474