Calla
rated this place and said
So we came into this place after an afternoon of shopping around town and had to wait a little.This just furthered my interest even more. Once we were seated, we got little menus and a bell. The bell was for us to use when we were ready to order, so we didn't get that "can I take your order" rushed feeling. We were able to leisurely look at the menu and take our time. And time was needed, it was such a detailed menu that provided such rich information. I liked how there was an introduction in the beginning, so that even someone new to tea could feel welcome in this place. I loved the descriptions for the tea, they were also quite detailed and made the decision process easy and hard, because there was so much to choose from.
The staff were friendly and very knowledgeable in tea. I found them super relax, which added to that relaxing ambiance. There was no sign of stress in this place. So with my family we tried three different teas.
I tired the Hojicha, which is a fire-roasted green tea that has a different color and flavor than other Japanese green teas.So I thought it was a great tea that was served, in what I think was a Houhin ( A traditional style of small Japanese teapot in Chinese-style porcelain with a built-in leaf strainer. Suitable for personal infusion of almost any sort of tea.) I loved the smoky, almost roasty smell that this tea had. It was interesting to have such a different smell to associate with tea. The taste was light, lighter than I expected.
My sister had an interesting black tea: Hong Mu Dan, which was quite pleasing to the eye. It looked particularly good and enchanting. I tried a few sips of this tea an it was quite tasty, I would order this one perhaps if I revisited Dobra tea.
Lastly, my parents shared a pot of Rooibos, which came in a cute red teapot and matching mini red cups.
All in all, I was very much impressed by this tea place and would for sure return to Burlington to enjoy some good tea. If you are in and around Burlington Vermont, I highly recommend you to check this place out.
Dobra Tea Room Edit
| | |
| --- | --- |
| Type | Tea Room |
| Style | Other |
| Serves | Loose-leaf |
| Food | Snacks |
| Features | Free wi-fi |
Hours
Mon

–

Sun
11:00

AM

–

11:00

PM
Have more info about this place? Add It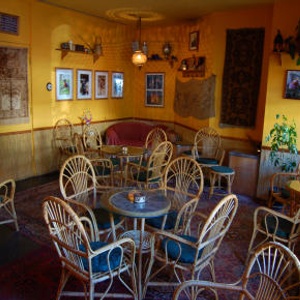 Photo submitted by
Traveling Shrine
80 Church St
Burlington, Vermont
(802) 951-2424