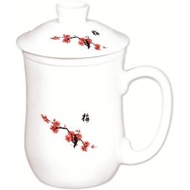 We are excited to introduce our brand new line of teaware, the Kung Fu Tea Cup! This premium porcelain cup transforms tea brewing into a simple process, allowing you to brew a high quality cup of tea in just minutes!
Why do we love this cup? For starters, the Kung Fu Tea cup is made of only the finest, lead-free, porcelain. We chose porcelain because it is sturdy, safe, and (in our opinion) the best brewing material for tea. And since we designed this cup ourselves, we have observed every stage in the production process to ensure that this is the highest quality cup that you can find.
Secondly, we think this is one of the easiest ways to brew tea for yourself. Each set comes with a porcelain mug, filter, and lid in your choice of 16 different designs. The filter fits perfectly in the mug, so that you can brew your tea directly in your cup. When you are done, flip the lid over and place the filter inside of it to keep any excess water from spilling on your table. In addition, the cup is designed with a big, sturdy handle so that it is easy to carry and use.
Lastly, we love this cup because of its simplistic beauty, yet functional design. This cup is a great blend of traditional Chinese tea culture with a modern and updated twist. Enjoy the high quality porcelain and simple decoration, while also being able to easily brew high quality tea.
Check out our video to see this cup in action: http://youtu.be/FFDlRUbCuHw
And check out our website to see all the different designs that we offer: www.shangtea.com/kung-fu-tea-cup
Edit info Last updated by Shang Tea
Currently unavailable
We don't know when or if this item will be available.