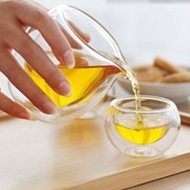 The products are made with borosilicate glass, adopting a low-expanding coefficient technology. The product has reached the international standard Grade A as well as the PYREX-7740 glass of Corning USA. Strictly tested by QC system, every piece of the products looks perfect and excellent in quality.
With this serveware, Gongfu tea can be delivered. For serving tea prepared in a steeping cup (gaiwan) or teapot, our pitcher gets the job done in style. You may decant the entire contents of a gaiwan into the pitcher for a more elegant presentation, or serve your guests from a larger teapot and pour the remainder into the pitcher to avoid over-brewing and have tea ready and waiting for seconds.
Note: You will find a small air-hole (blown hole) on the bottom of this double wall glass product, this is not a flaw but a safety means to control air pressure between walls. Normal circumstances, no dish washer, simply rinse with hot water. Clean the bottom gently, avoid brush, otherwise, there might be some water trapped inside the hole and fog up between the two walls. Mouth blown glass, each piece hard to make to perfection.
Heat Resistant Glass
Zhejiang Province, China
112g
Length: 125mm
Width: 90mm
Height: 95mm
Capacity: 200ml (6.8 fl oz)
https://www.ebay.com/itm/Double-Wall-Clear-Glass-Cha-Hai-Fair-Cup-Serving-Pitcher-200ml-6-8oz-/390834797664?hash=item5aff91bc60
Edit info Last updated by looseTman
Currently unavailable
We don't know when or if this item will be available.