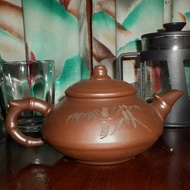 This purple clay teapot with bamboos scribed on the side is an ideal vessel for brewing tea. With continued usage the clay, from which the Yixing teapots are made, will absorb the aroma and flavors of your tea. They have the ability to withstand high temperatures and are slow to conduct heat; therefore, the handle remains comfortably cool even when pouring very hot tea.
Edit info Last updated by K S
Currently unavailable
We don't know when or if this item will be available.