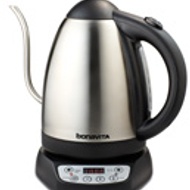 1.7 Liter Digital Variable Temperature Gooseneck Kettle
by

Bonavita
From the World Tea Expo:
http://worldteaexpo.com/index.php/attend/new-products
The Bonavita® 1.7 Liter Digital Variable Temperature Gooseneck Kettle
The Bonavita® 1.7 Liter Digital Variable Temperature Gooseneck Kettle gives you precise temperature control with enough capacity for several steeps. The gooseneck spout offers precision pouring while the increased wattage (1500w) gets your water to your desired temperature quickly. This kettle will be a limited release.
Per Roger Wittmann of Bonavita:
"The MSRP for the kettle will be $119.99 and we expect to have stock in 3-4 weeks."
"… the 1.7 "V" spout variable applies to the 1.7L gooseneck other than the spout difference. Here's the link:"
http://bonavitaworld.com/products/kettle6.asp
Edit info Last updated by looseTman
Currently unavailable
We don't know when or if this item will be available.