The Dammann Freres shop was like an island of serenity on an otherwise bustling Paris Saturday in the spring. With less imports to the US, Dammann isn't as well known as Mariage Freres, so their tea shop doesn't seem to draw quite as many American tourists. The shop was very open, with a lot of gift packages, tins of tea, and other tea parapheniela carefully arranged. There's not a tea room in this shop, it's soley a place to buy tea. There was a big square table in the shop with two rows of little wooden cubbies with lids set into it where you could smell most of the flavored teas they offer. The table was probably waist height, so it involved bending down to stick your nose in the cubby, which was a little awkward but not too bad. Then there's the big counter with shelves of big cannisters of tea.
When I approached they were very happy to help me discover some of their teas, but I had a list of must-haves that I had found on their website (and confirmed by smell on the tea-table), so I knew what I wanted. They ostensibly had a 100g minimum on each tea, but the employee that helped me said that if I was ordering a bunch of teas they could do 50g on some of them (there was probably a bit lost in translation; I don't really speak French, and he spoke only a little English). I ended up getting 50g on 3 out of the 5 teas I ordered, and it seemed like a woman was getting hers while I was there got 50g on all of the 20-something teas she ordered. In any case, it was nice to have some flexibility and it let me get more teas than if it was a flat 100g minimum on all of them. Even if you order your tea by weight, they're happy to sell you some gift packaging for it, as someone else did while I was there.
Overall a fantastic tea experience and I can't wait to go back. If you go to Paris and only to Mariage Freres, skipping this one, I think you're really missing out.
Dammann Freres Edit
| | |
| --- | --- |
| Type | Tea Shop |
| Style | Other |
| Serves | Loose-leaf |
Hours
Mon

–

Sun
11:00

AM

–

7:00

PM
Have more info about this place? Add It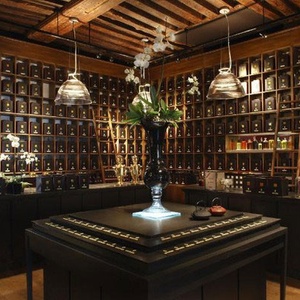 Photo submitted by
Ysaurella
15 Place des Vosges
Paris, Île-de-France
+ 33 1 44 54 04 88